Install
Spotify on Chrome
A mini Spotify player on Chrome which might save you some time.
Spotify has a really cool feature called Spotify Connect. So what is it?
Here is a good post explaining it.
What Is Spotify Connect and How Does It Work?
Basically it could turn anything into a Spotify player, and let you control it with your cellphone. But on Chrome you need to open the Spotify website, and use the web player. You need to keep the tab always open. How about just turn Chrome into a Spotify player? So that you don't have to open Spotify website every time and keep the tab always there on your browser. This might save you some time, right?
So I made this app trying to connect Spotify with Chrome. Is there other reason to use this player instead of the Spotify web player?
Yes, it supports global keyboard shortcut to handle the tracks, like play/stop/next/previous. A little bit cooler right?
How to use it
Authorize with your Spotify account;
Choose music on Spotify and stream it on the device called "Spotify on Chrome".
On the website, it looks like this:

Now you understand what it is.
Actually I built this player initially on Dictionariez, which is an open-source dictionary extension meant to be the simplest yet efficient one in the market.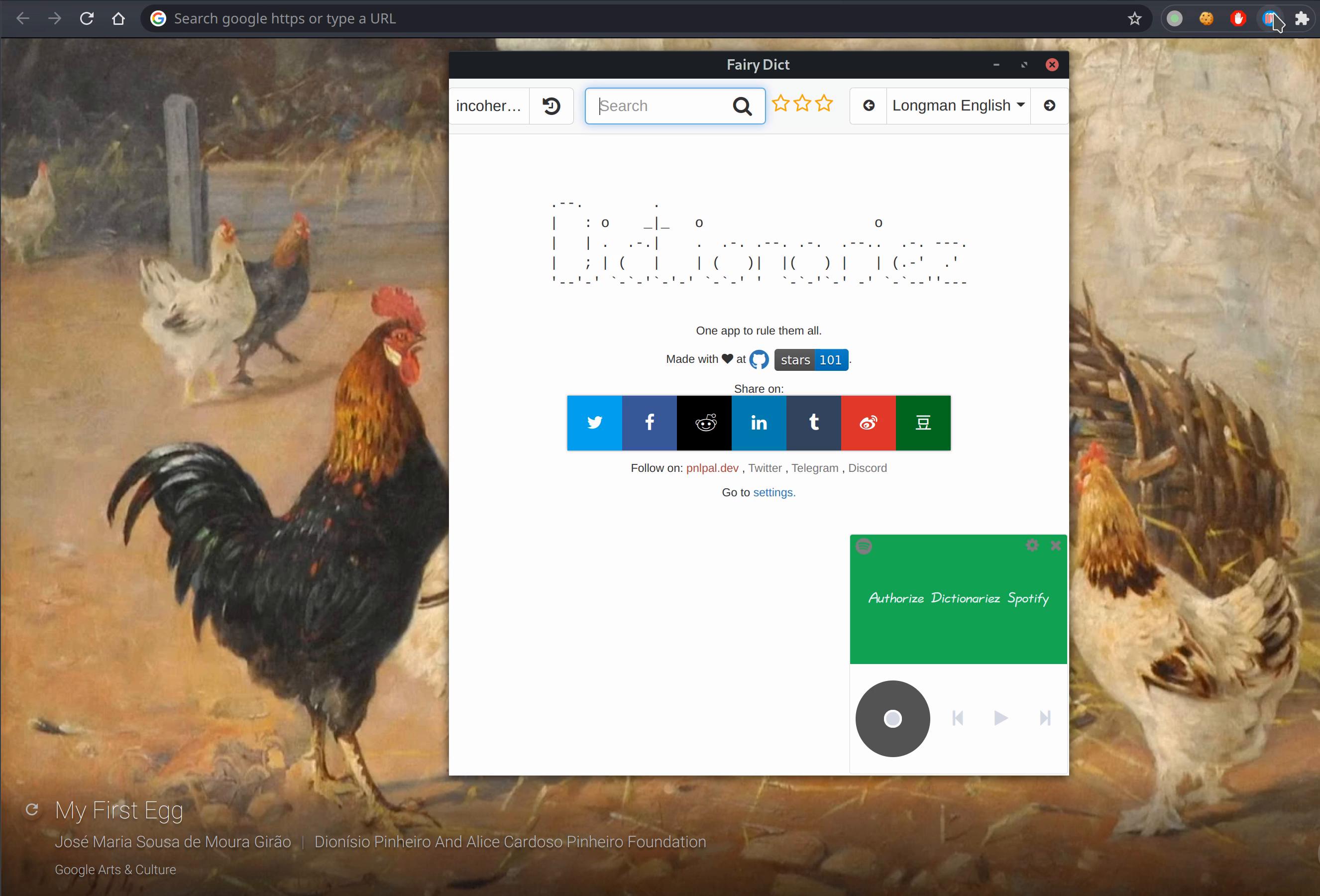 It looks cool on Dictionariez, but it's also weird. Because it's a dictionary app! Who would want to listen to Spotify while looking up a word? It turns out very few.
I put a spotify player on Dictionariez
I got some criticism on reddit too. That's a sad story so I won't put the link here.
So eventually I decided to segregate the player with Dictionariez. Now they both looks simple and clean. I hope you will enjoy it.
What next?
One urgent feature that I am doing now is like/unlike a track, you should see it soon.
Any other feedback is more than welcome.
About Privacy
I know you care about it. This app uses Spotify's API to connect with it. So it needs you to authorize it with your Spotify account. But It doesn't collect any information about your Spotify account or any other things. It doesn't sell any of your data either.
Besides, it's open-source.
---